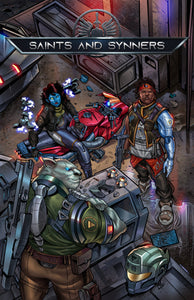 SAINTs & Synners (TinyD6)
Regular price $14.99 $7.50 Sale
251 sold of 100
This product will only be produced if at least 100 units are supported by May 06, 2022 16:00 (Central Time (US & Canada))
Calculating time remaining
 From Star Anvil Studios and Gallant Knight Games
The damaged and battered body of the galaxy has been infected. The wounds caused by the Armageddon War left a place for darkness to grow. The Syndicate, warlords, and remnants of the invading Nagatha have taken root in the outer edges of the galaxy.
Those left behind often turn to the Syndicate or seek to make their way through the gray. The star marines, the SAINT task force, and others seek to restore the law of the land but they are the few against the many.
Standing on the brink, and just a push can slide you into the abyss. Are you SAINT or Synner, choose before the galaxy chooses for you.
SAINT or Synner?
In the SAINTS & Synners roleplaying game, you get to experience a high-action, cinematic science fiction universe created by Brandon Verhalen and gorgeously presented in full-color detail!
The universe is recovering from a brutal, devastating war, and in the ashes of this conflict, criminal organizations are running rampant.
You can be a Star Marine, helping to secure the future of the galaxy, working to clean and protect the outer edges of the galaxy.
You can be a SAINT, a member of a task force dedicated to bringing down the criminal Syndicate.
You can be a Synner, a member of the Syndicate, out only for themselves. 
Or you can create a character separate from all of that, out only for themselves!
What's In The Book?
SAINTs & Synners is a comprehensive book, that will contain all the TinyD6 rules you need to play the game! But what is some of the content?
Ten Heritages, of which eight are new!
A full campaign setting rife with adventure and excitement
New Background Traits to help capture your profession, life history, and skills
Nearly two dozen new Traits
Campaign setting specific rules (such as S&S specific Death & Dying Rules, Hypertech and more!)
All new Starship Rules
All new Psionics Rules
All existing TinyD6 errata rolled into the book
All full-color art and layout
All the rules are written by TinyD6 developer Alan Bahr, and the setting is the creation of Brandon Verhalen!
This game was successfully GallantFunded and is now out!
Details of this GallantFunding
Unlike previous GallantFundings, where the book is complete, the money raised here will help to complete the book.
All the art is done, and Alan is finishing the rules tweaks and writing. We estimate text will be complete before the campaign ends. The current estimate has the book at 200ish pages, in full-color, though that is an estimate and any details here are subject to potential change (though hopefully not much.)

After that, the book will have to enter editing, layout and printing, and as such, we are targeting a delivery of August 2022 to GallantFunders!
We will be doing a small digital print-run, unless we achieve at least 500 preorders, after which we can move to an offset print run for the book.
Additionally, we have an option to order a PDF and a Print-on-Demand (POD) code! After the book is ready and complete, a POD code will be emailed to you from our friends at DriveThruRPG and will allow you to order a copy of the book, where you (the backer) will be responsible for the cost of printing and shipping the book. 
Allow us to reiterate: If you select the POD code option, when the book is complete, you will receive a code that will require you to check out from DriveThruRPG and pay the printing costs (currently estimated at $15+ USD for the color hardcover print book), as well as a shipping charge. This option is best for international supporters who want a print copy.
If you are in the US, the standard hardcover option will be a more affordable, higher-quality option!
The GallantFunding program from Gallant Knight Games is a webstore based "crowdfunding" solution that allows Gallant Knight Games to gauge the potential popularity of upcoming products in a manner similar to existing crowdfunding, while maintaining full control of the process. 
HOW DOES GALLANTFUNDING WORK?
Honestly, it's pretty much like buying something from our webstore. You select the format you want from the dropdown (PDF, Print or Print+PDF), click the "Add to Cart" button above, and just checkout like normal!

You can even check out and purchase other items from our webstore when you GallantFund!
You'll be charged at the time you check out for the GallantFunded product, as well as estimated shipping, and that's all you'll pay. Down the road, you just get the product.
If we raise the selected amount, we'll produce the item! If we don't, we'll either refund everyone (the least likely option) or find a solution that still gets you the product (the most likely outcome – as any amount raised towards our goals gets us closer). 
This structure is currently a limitation of how our webstore processes orders, but we're working on a solution to be more flexible down the line.
DELIVERY
All our shipping currently originates in the US. We're working on finding better international solutions, but for now, everything ships from the US. Our books are generally printed in the US (with a few minor exceptions), and we ship them to you via whatever shipping option you select when you check out.
On products where the digital product is done prior to release, when you check out with GallantFunding, you'll get the PDF within two business days. You'll receive both a download in the GKG webstore, as well as a link to redeem a free DriveThruRPG copy (this process is currently manual, so we're trying to find a good solution in the long term.)
On products where the PDF is not done prior to GallantFunding, we'll send it as soon as it's available to you.
OUR PROMISE & GUARANTEE
For us, in many ways, this is uncharted waters. The world is changing and we're trying to change with it. As a small, creative, and niche business, we're doing our best to change in advance. GallantFunding is a new process, with new concerns, issues, and problems we haven't anticipated yet, that will crop up to surprise us. However, we're committed to dealing with them.
GKG has produced over 100 physical books and products, ran over 25 crowdfunding campaigns, and Alan (our founder) has managed dozens more as a freelancer.
You can rest assured, if there is one thing we know how to do, it's get you the product. 
We make mistakes, we're not perfect. We are the first to own that. But we always strive for open, ethical, and honest communication, and we try to do better every day than we did the day before.
We'll always do our best to do right by you.
All illustrations and the Star Anvil Studios on this page is copyright (C) 2022, Star Anvil Studios.
GallantFunding, the GallantFunding logo, the Gallant Knight Games logo, and TinyD6 are copyright (C) 2022, Gallant Knight Games.