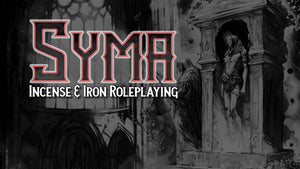 SYMA: Incense & Iron Roleplaying
SYMA is a dark fantasy world, inspired in part by the history of the Iberian Peninsula, games like Elden Ring, Bloodbourne, Dark Souls, as well as the themes of an oppressive medieval Church, violent history and conquest, and magic! Incense & Iron is a genre where medieval settings exist and feudal populations are in conflict with monolithic religious entities. 

The setting is deliberately presented as incomplete, allowing you to fill in the blanks as you need when you play. 
This work is based on Breathless, product of Fari RPGs (https://farirpgs.com/), developed and authored by René-Pier Deshaies-Gélinas , and licensed for our use under the Creative Commons Attribution 4.0 License (https://creativecommons.org/licenses/by/4.0/)
The art and layout is all done by Rick Hershey of Fat Goblin Games, a long time industry veteran. 
Please note: This product is produced via our Lulu Direct integration, which facilitates more affordable shipping and product management for small run projects. It can 2 or more weeks for the book to be produced and shipped to you. You will receive updates when it ships, along with tracking.