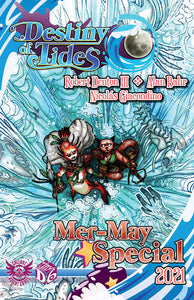 Destiny of Tides: Mer-May Special 2021
Even more treasures for your undersea adventures!
 The Destiny of Tides Mer-May Special 2021 brings you more expanded content for Tiny Dungeon 2e's first full campaign setting. In addition to collecting all the expanded Destiny of Tide options from Tiny Compendiums 2018 and 2019, this zine also provides all-new one page dungeons and special tribe generation rules, including special favors the tribe can grant for their champions.
Generate the undersea peoples your adventurers champion and garner their favor
Discover the secrets of the Undertide Relics
Unleash waves of new creatures, including the "Dire Orca" and the terrifying Xiphopteryx!
Explore the two levels of the Fallen Temple, or claim the treasures of the Shattered Keep
Make your way through the twisted brinicle web and avoid its frosty guardian in "Caged-In," a plug-in encounter to challenge your adventurers
This zine expands upon Destiny of Tides and requires Tiny Dungeon 2e and the Destiny of Tides book to utilize.