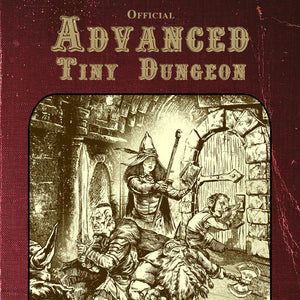 Advanced Tiny Dungeon
Regular price $14.99 Sale
159 sold of 100
This product will only be produced if at least 100 units are supported by April 15, 2022 15:00 (Central Time (US & Canada))
Calculating time remaining
Hearken back to the games of yesteryear, as the premier minimalist roleplaying game gets complex!
Advanced Tiny Dungeon is Tiny Dungeon 2e, turned up to 11 (10 wasn't complex enough).  Written by Mark Parish, Advanced Tiny Dungeon features more complex rules, more involved options, and more choices to make! If you wanted your streamlined gaming a bit more crunchy, here's how you get it! It's the the big sibling to the game you already know and love! We dug it out of our archives, and polished up the retro-files as a special gift today!
Illustrated with black and white line art, a retro-graphic design vibe, and much more, we're going old-school with our modern gaming ideas! Featuring complex takes on TinyZine articles, adventures, as well as a full-core ruleset, ADVANCED TINY DUNGEON is what you need when your minimalist gaming isn't big enough!
What's in the book? Rules complexities like: 
Variable damage
Character classes
Armor
Variable difficulty
Additional elements such as:
Enemies
Adventures
Expanded sub-systems around dungeon-crawling activities
and a microsetting!
While we are launching this product as a tongue-in-cheek jab at ourselves on April Fool's Day, rest assured, there is a real game in here and you will get a book with a fully playable game in it.
We should make this clear: Advanced Tiny Dungeon represents a fun "what if" scenario for a more complex iteration TinyD6, but it is not a revision of the core TinyD6 rules, nor does it represent a change in our TinyD6 design philosophy overall. 
Details of this GallantFunding
The book is currently in layout, having been written and edited. It should be complete sometime in the next week, which means that the PDF will be coming when the layout is complete (no later than 4/11/2022.)
We will be doing a small run digital print, unless we achieve at least 500 preorders, after which we can move to an offset print run for the book.
We estimate the book will be 200ish pages, black and white, and loads of fun!
The GallantFunding program from Gallant Knight Games is a webstore based "crowdfunding" solution that allows Gallant Knight Games to gauge the potential popularity of upcoming products in a manner similar to existing crowdfunding, while maintaining full control of the process. 
HOW DOES GALLANTFUNDING WORK?
Honestly, it's pretty much like buying something from our webstore. You select the format you want from the dropdown (PDF, Print or Print+PDF), click the "Add to Cart" button above, and just checkout like normal!

You can even check out and purchase other items from our webstore when you GallantFund!
You'll be charged at the time you check out for the GallantFunded product, as well as estimated shipping, and that's all you'll pay. Down the road, you just get the product.
If we raise the selected amount, we'll produce the item! If we don't, we'll either refund everyone (the least likely option) or find a solution that still gets you the product (the most likely outcome – as any amount raised towards our goals gets us closer). 
This structure is currently a limitation of how our webstore processes orders, but we're working on a solution to be more flexible down the line.
DELIVERY
All our shipping currently originates in the US. We're working on finding better international solutions, but for now, everything ships from the US. Our books are generally printed in the US (with a few minor exceptions), and we ship them to you via whatever shipping option you select when you check out.
On products where the digital product is done prior to release, when you check out with GallantFunding, you'll get the PDF within two business days. You'll receive both a download in the GKG webstore, as well as a link to redeem a free DriveThruRPG copy (this process is currently manual, so we're trying to find a good solution in the long term.)
On products where the PDF is not done prior to GallantFunding, we'll send it as soon as it's available to you.
OUR PROMISE & GUARANTEE
For us, in many ways, this is uncharted waters. The world is changing and we're trying to change with it. As a small, creative, and niche business, we're doing our best to change in advance. GallantFunding is a new process, with new concerns, issues, and problems we haven't anticipated yet, that will crop up to surprise us. However, we're committed to dealing with them.
GKG has produced over 100 physical books and products, ran over 25 crowdfunding campaigns, and Alan (our founder) has managed dozens more as a freelancer.
You can rest assured, if there is one thing we know how to do, it's get you the product. 
We make mistakes, we're not perfect. We are the first to own that. But we always strive for open, ethical, and honest communication, and we try to do better every day than we did the day before.
We'll always do our best to do right by you.