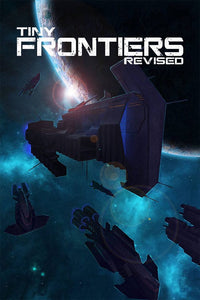 Tiny Frontiers: Revised
Regular price $14.99 Sale
Tiny Frontiers: Revised is here! All new art, expanded and revised rules, and all new micro-settings come together with the minimalist TinyD6 rule system for a revision of the bestselling minimalist space opera roleplaying game!
Powered by the TinyD6 engine, with streamlined mechanics that utilize only one to three single six-sided dice on every action, characters that can be written 3x5 notecard, and easy to  understand and teach rules, Tiny Frontiers: Revised is great for all groups, ages, and experience levels!
Featuring exciting micro-settings designed to jump start your imagination and campaign, writty by some of the most talented writers out there, Tiny Frontiers; Revised will provide an easy launching pad for conventions, one-offs or short campaigns!
Designed to emulate classic space opera, and providing an open framework for exciting stories, Tiny Frontiers: Revised is here! Completely compatible with the other TinyD6 games, Tiny Frontiers: Revised is a fully-stand alone game.
So grab some dice, some pencils, some friends, and get ready for some minimalist, straight-forward, space opera roleplaying!
NOTE: While the original edition of Tiny Frontiers included rules for Mechs, we've since abandoned those in favor of the rules in Mecha & Monsters, which we feel are superior and more comprehensive. If you liked the original rules, they are available in the Pay What You Want version of Tiny Frontiers on DriveThruRPG. Otherwise, we'd heartily and fully recommend you consider Tiny Frontiers: Mecha & Monsters.