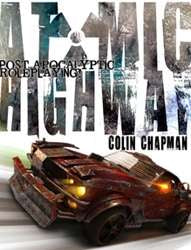 Atomic Highway
Civilization came crashing down. Billions died.
A new Dark Age has begun. The descendants of the apocalypse's survivors scavenge the remnants of the Before Times, struggling to build a new life amidst the ruins of the old. In a savage world where the strong ravage and exploit the weak, the survivors' settlements are oases, connected only by convoys of armed and armored vehicles that run the gauntlet of raiders... and worse.
Though the threats of chemical and biological agents and radiation have all but faded, their taint lingers on in every mutant born to man and beast.
This is the world of Atomic Highway.
Atomic Highway is a complete roleplaying game. All you need to play it is this book, a few friends, paper and pencils, and a few ordinary dice.
Features:
The

 

V6 Engine: a simple, fast-playing game system that emphasizes cinematic, or "movie-style" action, supported with many clear examples.
Quick and easy character creation rules providing dozens of potential character types. Tear along the shattered highway as a road warrior, track down monstrous threats as a brave tribal warrior, or unearth the wonders of the past as a canny scavenger.
Rules for mutants and mutations, including optional rules for humanoid animals and psychic powers.
Straightforward rules for a wide variety of vehicles and modifications.
A complete bestiary of threats, mundane and mutated.
Easy-to-use scavenging tables - you never know what you'll unearth.
A customizable setting with advice and tips on how to create your own post-apocalyptic world.
Roleplaying and game running advice for Players and Game Masters, new and experienced alike.
A ready-to-use introductory adventure.