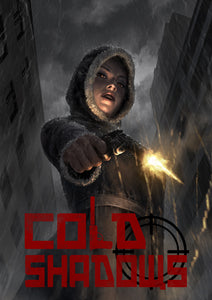 Cold Shadows
Regular price $19.99 Sale
Welcome to Cold Shadows, an espionage roleplaying game of secrets and betrayal.
Cold Shadows is set in a taut world of espionage, betrayal, and drama inspired by the great spy stories of authors such as John le Carre and Robert Ludlum. Deliberately engineered to emulate quiet, dramatic stories, where conflict is handled with words rather than violence, Cold Shadows focuses on the consequences of espionage action.
Cold Shadows is a game where the rules are focused on telling a dynamic, personal and compelling story, utilizing new mechanics to measure the trust that agents have with each other, while providing mechanical applications to guide the dramatic stories that betrayal in the ranks can inspire. Agents all serve in the same Division as high-ranking officers, working with (and sometimes against) each other to accomplish their goals.
Using a player-first narrative system, stories of secret deals and unauthorized operations are commonplace here. Players will determine the outcoming of their actions, rolling for the right to narrate the scenes and actions they participate in, rather than worrying about success and failure being outside of their control.
Throughout this book, you'll find call-outs and suggestions for adapting the game for different genres. When writing this book, our primary focus was on rules that supported suspenseful and dramatic tension, over action thriller espionage and other forms. With rules for single player, GMless, and standard troupe play, Cold Shadows is an espionage RPG for all groups!
Cold Shadows is based on the excellent ruleset by John Wick laid out in Houses of the Blooded and Blood & Honor. Additionally, we've also leveraged material from Woerner Wunderwerks's wonderful expansion: A World of Dew.
Cold Shadows is a standalone game.