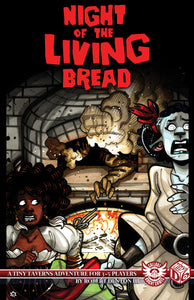 Night of the Living Bread
A Spooky Tavern Adventure That Your Players Will Never Baguette!

The local harvest festival becomes a backdrop for a terrible curse, the curse of the unbread! Our tavern proprietor heroes must discover the cause of these starch conditions before the entire inn crumbles at the eleventh flour. Will our heroes rise to the challenge and overthrow the pastryarchy? Or are these bad croutons more than they can chew?

Night of the Living Bread is a spoopy tavern adventure of tested friendships and terrible puns for 3 to 5 players. With new mechanics, GM tools, mini-adventure hooks, and lots of prompts, this is one adventure that will never go stale! It is designed for use with Tiny Taverns: A Slice-of-Life Roleplaying Game, but can be adapted for any TinyD6 game.
This adventure is currently PDF only.