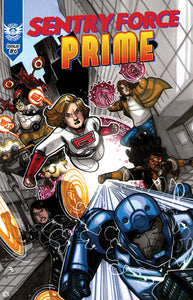 Sentry Force Prime: Issue #0
SENTRY FORCE PRIME IS HERE!
Graciously funded by the Tiny Supers Kickstarter, Sentry Force Prime: Issue #0 introduces the heroes of the GallantVerse, some of the notorious villains, as well as setting in motion the formation of the heroic team: Sentry Force Prime!
At the back of the comic, you'll find Siege of Sentry City, a small, light-weight skeleton adventure that GMs can flesh out. Siege of Sentry City is designed around an epic confrontation with THULE! This adventure can be run for one table, or up to three tables as an epic event at conventions or home games and requires the core rulebook for Tiny Supers.