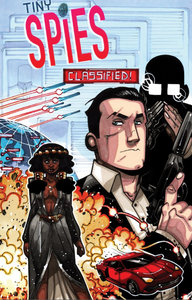 Tiny Spies
Only You Can Save The World!
Get ready to join the clandestine world of spies, as you join C.O.V.E.R.T. and fight against D.I.S.A.S.T.E.R.!
Powered by the TinyD6 engine, with streamlined mechanics that utilize only one to three single six-sided dice on every action, characters that can be written on a 3x5 notecard, and easy to understand and teach rules, Tiny Spies is great for all groups, ages, and experience levels who want to enjoy fast and accessible action espionage gaming! Characters are created quickly, with a simple power selection system designed to be fast, intuitive, and easy to understand.
New archetypes feature in the book, as well as rules for gadgets, chases, background traits and all the minimalist tools you need!
So grab some dice, some pencils, some friends, and get ready for some minimalist, straight-forward, superspy roleplaying!

Tiny Spies is a complete game and is compatible with most other TinyD6 games.