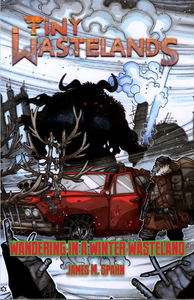 Wandering in a Winter Wasteland - A Holiday Season Tiny Wastelands Adventure
It's Christmas Time...in the Wasteland!
Sinter Klass needs YOUR help! Drive into the frozen post-apocalypse and provide some seasonal joy to children who live in a blasted and frozen hellscape. Wandering in a Winter Wasteland is a new holiday themed adventure for Tiny Wastelands and contains the following:
New Winter and Holiday Themed Traits
A New Vehicle: The Sleigher
A brand new Plot Chain

 

modular adventure. 
New enemies...including the fearsome mutated goatbest: Krampus!
A new micro-setting: The Winter Wasteland
New exposure rules TinyD6. 
What are you waiting for Survivors? It's time to deck the halls!