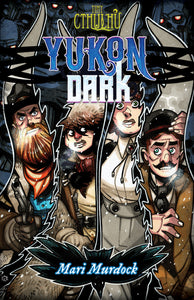 Yukon Dark: A Tiny Cthulhu micro-setting
The frozen north hides gold… and Elder Gods.
Yukon Dark is a setting supplement for Tiny Cthulhu that explores the 1890s Klondike Gold Rush, a time when many flocked North to find their fortune but found horror instead. This setting guide includes details of a sample mining boomtown called Porte Blanche, new additions to the Tiny Cthulhu mythos, and pre-generated characters (created and played by the cast of the Yukon Dark live-play). It even has suggestions for how to play with dynamite!
---
Yukon Dark featured as the setting of Gallant Knight Games' Tiny Cthulhu Actual Play